Profile
DKD Property Management Company has provided comprehensive management of multifamily apartment communities in California throughout the Bay Area and Central Valley since 1972. Many of our clients are private investors, financial institutions and syndicators. Our experience and proficiency in the successful management of market-rate and affordable housing properties enables us to serve our clients with excellence. The core values and standards of DKD demand our dedication and integrity. As a team, we are committed to developing and maintaining a long term relationship with our clients and increasing the asset value of their real estate investment.  It is our goal to provide quality personal service to each of our clients.
We pride ourselves in staying abreast of the rental market, government regulations and laws specific to the industry, regions, cities and neighborhoods in which our apartment communities are located. DKD's Regional Property Managers are based in our San Jose Corporate Office or one of our Branch Offices in Fairfield or Fresno. This enables us to train and develop our on-site teams to meet our high standards and to remain accessible to oversee on-site management operations.
DKD's On-Site Division consists of our front-line teams, including Property Managers, Maintenance Technicians, Leasing Consultants and Occupancy Specialists. The corporate property management team has well over 150 years of combined experience in the management of multifamily apartment communities. We pride ourselves on the longevity of our staff, their knowledge and expertise which support our core value of delivering Exceptional Leadership and Exceptional Service.
Charles W. Davidson, Founder
The late Charles W. Davidson was a highly successful entrepreneur and philanthropist who founded DKD in 1972 with the late Donald S. Kavanagh and Pamela E. Stroud to manage the multifamily apartment communities he would continue to develop and build.  DKD still manages properties owned by Mr. Davidson, as well as for other private investors, financial institutions, and syndicators.  Mr. Davidson's business savvy and standard of excellence are the foundation upon which the company continues to operate.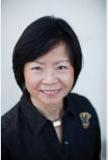 Gloria Chiang, Broker and Principal
After a successful career in business and banking, Gloria Chiang joined Charles W. Davidson Company in 1984 as Director of Finance and Administration.  Ms. Chiang's diverse experience in commerce and her strong financial background in banking for over 20 years assure consistent and thriving operations.
Ms. Chiang has served as Real Estate Broker and consultant for DKD since 1990.